Application Field: Inorganic Grouting Reinforcement Material


Recommended Products:
Product Name
Model
Property
Catalyst
CUCAT-WN
Compatibility suitable for low modulus Sodium Silicate
CUCAT-WNT04A
High activity, fast curing
CUCAT-WNT05
Good compatibility, no layering
CUCAT-WNK01
High activity, suitable for spraying on vertical surface.
Dispersing Agent
YRXR-04A
Improve the compatibility of Sodium Silicate with other raw materials.
Product Features:
CUCAT-WN series catalysts are used for inorganic grouting leaking stoppage materials with the following characteristics:
1) less odor, clean and friendly production environment. Compared with other catalysts, it reduces olfactory stimulation to construction personnel in closed environment.
2) Stable without failure. The catalytic activity of general catalysts in strongly alkaline sodium silicate decreases with time, and the structure of CUCAT-WNT is stable and the attenuation is not obvious.
3) The cured composite has high strength. The strength of inorganic reinforcement after curing is directly related to the reaction product and reaction completeness, which depends on the catalyst used. CUCAT-WN series has higher strength than other catalysts after curing.
4) WNT04A and WNK01 have high catalytic activity and the addition is low.
I. The activity of WNT04A catalyst is about 1.3-1.5 times that of DMAEE;
II. The catalytic activity of WNK01 is about twice that of DMAEE (see the figure below). It is recommended for the application of vertical surface spraying which need rapid solidification. It can be rapidly solidified and formed in 3-8 seconds.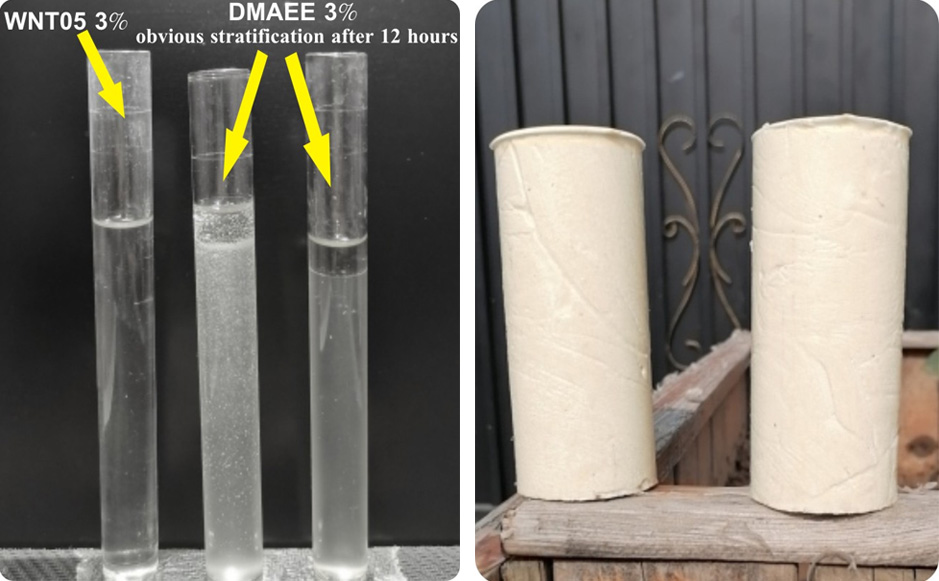 5) CUCAT-WNT05 has good compatibility with sodium silicate. Sodium silicate belongs to high-density water-soluble inorganic matter. Generally, the catalyst is mixed with it and is turbid and insoluble.