Product Model: CUCAT-DG01 / CUCAT-DG02
Typical Properties:
Appearance: Clear, light yellow liquid
Chroma (Fe-Co): ≤5
Density (g/cm3, 25℃): 1.005
Viscosity (mPa.s, 25℃): 330±120
Smell: With special compound smell
Solubility: Soluble in normal polyurethane raw materials (polyether polyol, plasticizer)

Applications:
They are general purpose catalysts, which are recommended to be used in 2-component polyurethane systems, especially in TDI/MDI+PPG+MOCA and MDI+PPG+BDO systems, for diverse PU CASE applications, such as PU wheels, cyclones, non-solvent PU leathers, PU flooring coatings, adhesive and sealants.
Features & Advantage:
CUCAT-DG01 / CUCAT-DG02 is the newest substitute of organic mercury catalyst, developed for PU non-foam applications. It has excellent catalytic selectivity of the reaction between isocyanates and hydroxyl/amino group, without catalyzing to the reaction between isocyanates and moisture, performs very similar with organic mercury of initial viscosity, gel point and post-cure time. The unique characteristics are following:
◢ Excellent flowability. CUCAT-DG01 would not improve initial viscosity of mixtures that make the mixtures can flow into mold freely and quickly.
◢ Stability of pot life. Increase dosage would not shorten the pot life obviously, the pot life keep similar even if the dosage is double.
◢ Fast curing. The strength and demoulding time is very similar with organic mercury when the dosage of CUCAT-DG01 is twice as organic mercury.
◢ Out-standing catalytic selectivity. CUCAT-DG01 can improve the transparency of PU products significantly due to almost no catalytic activity for the reaction between isocyanates and moisture.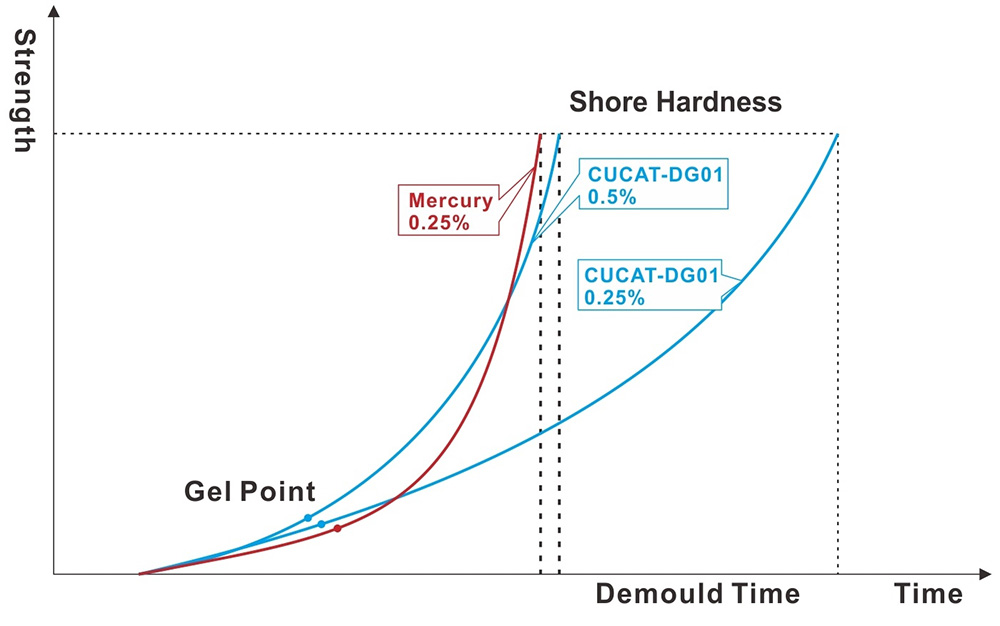 The Time-Strength curve (TDI+ PPG+MOCA) as above demonstrates that CUCAT-DG01 performs very similar as organic mercury on gel point, demoulding time and demoulding strength when the dosage of CUCAT-DG01 is twice as organic mercury. Compared with CUCAT-DG01, CUCAT-DG02 shortens the post curing time by about 1 / 4 without changing the flow time.
User's Guide:
◢ Suggest adding in polyol component after vacuum degassing.
◢ To add CUCAT-DG01/DG02, the polyol component temperature should be below 80℃ at least.
◢ Levels of 0.05-0.5% as supplied by weight on total polyol volume.
◢ We don't suggest adding in isocyanate component. To avoid gel, please do test before adding in isocyanate component to make sure the storage stability.
Handling & Storage:
CUCAT-DG01/DG02 is sensitive to moisture. Therefore, exposure to atmosphere should be avoided. Product should be stored in a cool, dry environment away from sunlight and excessive heat.
Package: 25kg/200kg in HDPE drum
Shelf Life: The unopened shelf life is 24 months from the date of manufacture. After shelf life, please do test to make sure the catalytic properties before use.